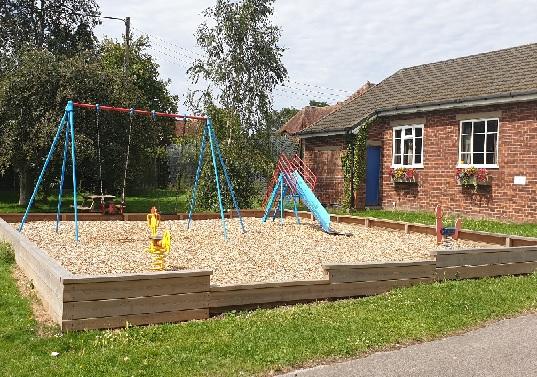 Scothern play area is located within the grounds of the village hall. It is owned and maintained by the Parish Council.
It is a great place to go as a family to let the kids burn off some energy, there are a number of picninc benches in the area too for you to use and enjoy.
The equipment consists of swings, slides, a trim trail, monkey bars, a cargo net, nest swing and basket ball net, as well as a large playing field behaind the village hall.
There is an area of shade supplied by a small group of trees to the left of the swings.
Due to the current ongoing Covid-19 restrictions, please see details below of how the park can be used during these times:-
PLAYAREA GUIDELINES
For the safety of all users please respect the following guidelines as set out by Government:-
Children under the age of 13 using this playground are always to be supervised by a Parent or Guardian .
Parent or Guardians of children under the age of 13 are advised:-
To bring their own hand sanitiser for the cleaning of their children's hands before, at regular intervals during, and after use of the play area equipment. In the absence of such sanitation, parents or guardians are requested to refrain from allowing their children the use of the equipment.
To ensure social distancing is maintained at all times.
To advise children to avoid touching their face, eyes, nose and mouth.
To ensure children under your care always have regard to the safe use of equipment and to the safety of others .
To adhere to the most up to date health advice.
To not enter or use this park when any person is showing COVID symptoms.
To limit attendance in the play area to one adult/parent to one child where possible.
To limit the use of equipment to one household at any one time.
To refrain from eating or drinking in the play area.
To be aware that our play area is not supervised.
Inspections of the area and play equioment are regulary carried out however any defects can be reported to the Clerk of the Council.
People use the play area at their own risk.